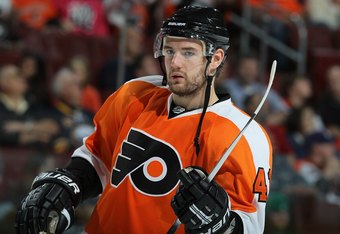 Meszaros has been a welcomed addition in Philadelphia.
When the Philadelphia Flyers acquired defenseman Andrej Meszaros from the Tampa Bay Lightning in exchange for a 2012 second round draft choice, I was a little skeptical at the price tag surrounding the underachieving blue liner.
Meszaros, 25, scored eight goals and 25 assists in two very disappointing seasons with Tampa Bay where he was a -18 in 133 games.
At first glance, he didn't present a huge upgrade to the Flyers defensive unit while carrying a bigger cap hit than Lukas Krajicek, Ryan Parent and Oskars Bartulis.
The Slovakian defender was two years into a six year, $24 million contract extension ($4 million cap hit) that he signed after the Lightning acquired him from Ottawa in August of 2008.
Tampa Bay paid a steep price to obtain Meszaros from the Senators in the first place, parting ways with defenseman Filip Kuba and Alexandre Picard, and the San Jose Sharks' 2009 first round draft pick.

Technically, Tampa only acquired the negotiating rights to Meszaros since he was a restricted free agent, however then-general manager Brian Lawton quickly signed him to his lucrative deal.

Lawton has since been relieved of his duties as Tampa's GM, and former Detroit Red Wings great Steve Yzerman has taken over the reins as the signal caller for the Lightning.

Part of Yzerman's gameplan for turning the Tampa organization around was moving bad contracts.

Meszaros was his first victim.

The Flyers came calling, parting ways with their 2012 second round pick.

In general manager Paul Holmgren's eyes, Meszaros was the best fit for the Flyers.

Holmgren had the option to either wait until noon to try to convince a big name free agent like an Anton Volchenkov or Paul Martin to come to Philadelphia, or pull the trigger to acquire Meszaros.

Fans called for Volchenkov, Holmgren went with what he thought was best for the team, trading for Meszaros.

To make matters worse for the perception of the trade was that Homer gave up his second round pick in 2012. A very valuable pick for someone who hadn't lived up to his $4 million per season salary.

Fifteen games into the regular season, Meszaros is quickly proving that he's worth the cap hit and the pick it took to acquire him.

The 6'2″, 223-pound defenseman has three assists in 14 games this season. He's third on the Flyers in plus/minus with a +5 rating, and has only four penalty minutes.

Meszaros is contributing to all game situations for Peter Laviolette, and is earning more responsibility with each passing day. He's playing on power play, and killing penalties for the 10th ranked PK unit.

One of the biggest needs of the Flyers was a fifth defenseman who could play at least 15 minutes a game. Thus far, Meszaros is averaging 18:03 per game. He's playing 2:12 on the power play per game, and 2:34 on the penalty kill per game.

That's a significant upgrade from 16 minutes per game Krajicek was contributing to the Flyers last season. And that's not factoring the 10 minutes he played per game in the playoffs.

The Flyers wanted to acquire more defense so their top defenders Chris Pronger and Kimmo Timonen didn't have to play more than 25 minutes a game.

So far, Holmgren's plan is working out tremendously.

Pronger is averaging only 21:49 per game, significantly lower than his 25:55 he played per game last season. Timonen leads the Flyers defense in ice time, averaging 23:13 per game, which actually more than what he averaged last year.

For the Flyers, acquiring Meszaros may have been their best acquisition of the offseason.

Of course, that's because they signed goalie Sergei Bobrovsky near the end of last season.